When I was a callow youth a buddy of mine turned me on to an NPR program called Wordjazz. It was unlike anything I'd ever heard before (or since) and the genius behind it is "the man with the golden baritone voice": Ken Nordine.
Using a unique technique of overdubbing a tinny sounding voice I always thought of as his subconscious, it was like he was having conversations with himself while pursuing stream-of-consciousness ramblings that usually culminated with a clever twist.
He recorded his Beat-like spoken word and poetry over diverse backdrops of jazz, rock and electronic music performed by some heavy rollers: He has collaborated with an incredible cast of musicians during his career including The Grateful Dead, David Sanborn, Smokey Robinson, and Fred Astaire to name just a few.
Coolest of the cool, hippest of the hip, Nordine is the undisputed King of the Beatniks. His rich, golden baritone entrances you as he takes you on audio journeys charged with heavy psychedelic visual imagery, sometimes raising the tension to nearly unbearable levels before dissolving into quirky silliness.
His instantly recognizable voice has been featured in many commercial advertisements and movie trailers. One critic wrote that "you may not know Ken Nordine by name or face, but you'll almost certainly recognize his voice". The recordings of Colors are brief Beat-inspired explorations of the meanings of different colors (some of which were used in ads for The Fuller Paint Co.). Unique and innovative, these audio head-trips are difficult to describe, but you'll never forget them once you experience the genius of Ken Nordine.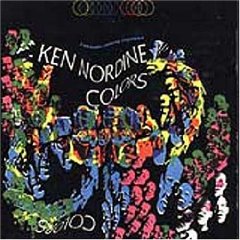 I was inspired by Ken's Wordjazz to write a song in his honor a few years back called Kilroy Was Here. While it isn't as cool as his stuff, it's still kind of interesting, so if you want to hear it click here.
I've always had a fascination with the little Kilroy graffiti, which is why I wrote the song, and use it on my contact page:



Here are the lyrics and some ascii art
Ken Nordine at Allmusic
Ken Nordine's "My Baby" (MP3)
Ken Nordine at Last.fm