Wow, I hope I look this good at 70: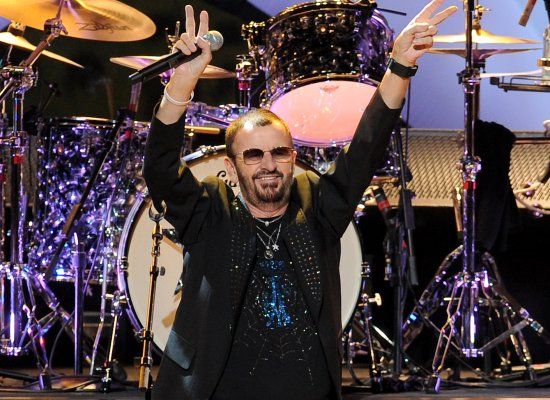 Emily Singer writes a terrific review of his birthday bash all-star concert, you can read it here.
Apparently it was pretty special, his all star lineup was:
Wally Palmar – guitar, bass, harmonica, vocals
Rick Derringer – guitar, vocals
Edgar Winter – keyboards, saxophone, vocals
Gary Wright – keyboards, vocals
Richard Page – Bass, vocals
Gregg Bissonette – drums, vocals
Then his son Zak Starkey took over on drums for the classic With A Little Help From My Friends, and some long time friends joined him on stage: Yoko Ono, Joe Walsh, Angus Young, Nils Lofgren, Jon Bon Jovi, Mick Jones, Steve Van Zandt, Brian Johnson, Max Weinberg, and Jeff Lynne to name a few.
It all culminated when none other than Paul McCartney surprised everyone when he came out onstage, gave Ringo a hug, and the band (with Ringo playing drums, of course) launched into Birthday!