Every year, Chris Pirillo hosts Gnomedex, a technology conference tailored to technology and blogging enthusiasts. Quite a while back, when podcasting was the new hip thing, I asked him if he needed a theme song for his podcasts, and if he would be interested in having me try to make him something. So he said to send him something, and if he liked it he might use it.
Well, he loved it (yay) and I kind of forgot about it until the other day, when I started following him on twitter, and I thought, "hmmmm, I wonder if he needs music for Gnomedex?" and he said to send him something and if he liked it he might use it.
So I knocked out these 2 songs about Gnomedex:
The first song was kind of inspired by two things: Bob Marleys birthday (February 6th) and the movie Goundhogs Day – I'm kind of visualizing somebody waking up and repeating a day over and over, and everyday he's at Gnomedex – only unlike the movie it's a GOOD thing:
Gnomedex
The second song is more technogeek in nature, and needs no interpretation
:
Gnomedex II
I noticed, however, when compared to the podcast theme song I did for him a long time ago that they are all very dissimilar, which may be a good thing, I'll just have to see what he thinks.
BTW, here is the old theme song:
Pirillo
Here is a photograph of the LockerGnome himself – thanks for all your support Chris!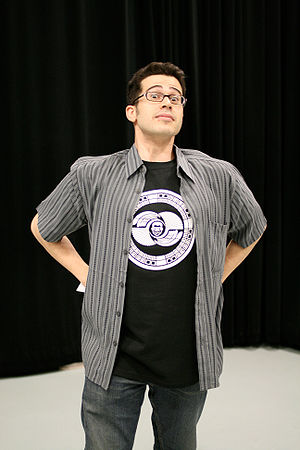 [Mouseover text for our RSS readers: "Do you need some help? Do you need a hand? Something to understand: Pirillo is The Man!"]