Steven Brust is one of my all-time favorite writers. I heard of him from another of my favorite writers, Roger Zelazny. Anyway, he's having a tough time right now (Steven, not Roger. Roger passed away in 1995. Wow it seems incredibly sad that he's been gone that long, it seems only very recently that I heard of his passing).
Anyway, some friends of Brust talked him into putting a donation page up, and I'm just kind of spreading the word, in more ways than one…(I can almost hear my friends thinking, "huh? what does THAT mean?).
Well if you like Firefly (and I actually don't have any friends who don't like Firefly, now that I think about it), you'll be pleased to find that Mr. Brust wrote a wonderful story of our friends Mal, Zoe, Wash, River, Simon, Kaylee and Jayne having a typically hair-raising adventure, and best of all IT'S FREE. Click Here to read it.
AND THEN GO DONATE SOME MONEY, BITCH. 'Cause when the fickle finger of fate decides to strike YOU, it'd be nice to have some good karma built up, wouldn't it?
So here's a picture of this awesomely talented dude, wow he looks like a biker, doesn't he? Well you know what they say about judging a book by it's cover, heh….anyway Good Luck, Steven and get well soon!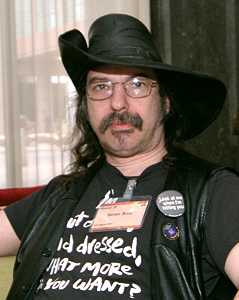 Mouseover text for our RSS readers: "Buy his books, too – they're bad to the bone, I mean I actually put this guy in the same class as Jack Vance, Gene Wolfe and Frank Herbert. And Zelazny, of course."