This XKCD comic makes you think, and then makes you angry: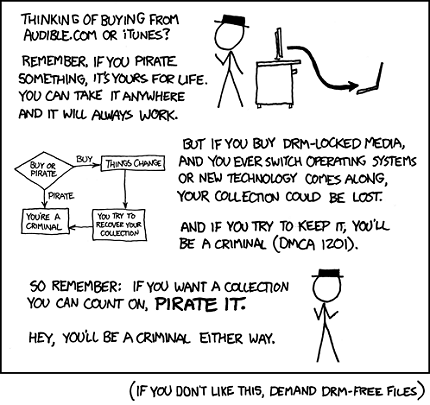 [This is the xkcd mouseover for our RSS via email readers: "I spent more time trying to get an audible.com audio book playing than it took to listen to the book. I have lost every other piece of DRM-locked music I have paid for."]
This fits in with my PIRATE ME policy, and is why I have only 3 DRM Mp3's in my entire collection (which I stupidly purchased from crApple iTunes a long time ago). They only play on the PC I used to download them (it is the only PC I have that has iTunes on it). Needless to say, this pisses me off. Of course, I could burn the songs to a CD then rip them as mp3s, but technically this is against the law WTF.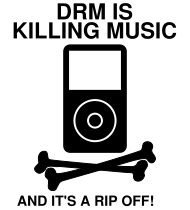 I wish everybody would JUST SAY NO TO DRM-LOCKED MEDIA, but you know what?
Ain't gonna happen.
It turns out the masses of humanity are simple sheep easily led around by the corporate dogs who decide these things for them. Except for the comparatively few sharp persons who say, "fuck THAT noise" and ONLY obtain DRM-free media, pwn.