I hope everyone had a very happy holiday season! I am so lame, I didn't send any Christmas cards (but then, I never do so that's no big surprise), but I did finally get around to making my annual Ryder Family Christmas Card Extravaganza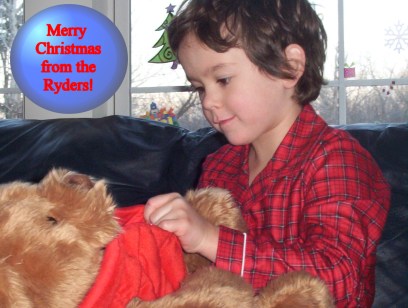 (which I do every year).
[As you can see he loves his new bear and pajamas that he asked Santa for – this pic was taken Christmas morning, and he changed into his new PJs as soon as he opened them
he is so funny ]
Anyway, it's only 15 days after Christmas, so that's not too bad for me haha! Plus, as an added bonus I did the Spooky Halloween Muggy Card featuring the awesomeness of our very own Muggy Bear (much applause and cheering for the Muggy, who BTW is really doing well in school AND heath-wise, thank you God).
So that's some of the news I just sent out in my late Christmas Newsletter, if you want to read it and you're not signed up for the newsletter, I'll try to remember to post it in the newsletter archives later
UPDATE: The newsletter is up in the archives now, and here are our previous Christmas Cards if you want to see them:
The Christmas Card Page.